by
History of Werribee Park Heritage  Orchard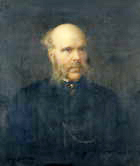 Thomas Chirnside (1815-1887), pastoralist, was born in Cockburnspath, East Lothian, Scotland. He sailed from Liverpool in the Bardaster, arriving in Australia in January 1839.Just before the gold rushes he and his brother Andrew began acquiring land at Wyndham (Werribee). There Thomas settled, later building a bluestone mansion near the banks of the Werribee River and gaining a freehold of 80,000 acres (32,375 ha).Thomas Chirnside started planting his orchard on a significant scale in the early 1870s. Fruit trees included peaches, grapes, apples, quinces, pears, a variety of plums and several other fruits, as well as walnuts and olives.
From 1923 to 1973, the mansion was a Catholic seminary, Corpus Christi College. The monks looked after the orchard, which flourished and produced bountiful harvests. Every year in autumn, the novices would be put to work from morning to night picking, carting, peeling and processing fruits. In 2011 one former priest recalled having 400 fruit trees, consisting of Jonathons, Yates, Packham Pears, Cherry Plums, Apricots, Quinces and Granny Smiths. In 1973 Corpus Christi was sold to the state government, and renamed Werribee Park.
During the ensuing age of commercial fruit-growers and supermarket chains, the orchard was forgotten. Over the years some of the majestic old trees were removed. The rest were left to fend for themselves through the worst drought in Victorian history, summers with record high temperatures and the occasional winter flood from the Werribee River. Rabbits attacked the trees regularly, gnawing bark off the trunks, which eventually caused some trees to die. Amazingly, approximately sixty-four trees survived.
They are, however, in urgent need of care. According to a 2002 arborist's report, "Many of the fruit trees are structurally senescent and may die in the next decade or so."
In partnership with Parks Victoria, a community group was formed in 2010 to look after the orchard.
The origin of WPHO group –
In 2008, Adam Smith and another staff member of Parks Victoria paid a visit to the Heritage Fruits Society to request advice about the old orchard at Werribee Park, which had been left untended for many years due to lack of resources. Peter and Silvia Allen, of Telopea Mountain Permaculture Farm – who are core members of HFS – formed a great rapport with Adam. All were enthusiastic about re-invigorating and preserving the orchard.
In 2009 Pete and Silvia supplied a number of heritage fruit trees to the old orchard, to replace some of the ones that had died. Peter suggested that a local community group could be formed to care for the orchard, and helped Parks Victoria contact gardeners and permaculture adherents in the Werribee area.  As the newly formed group began to flourish, Peter and Silvia continued contributing fruit tree varieties, their time and their experience on numerous occasions, and WPHO is grateful to them for all that they have done for the group.
The WPHO group has been identifying the varieties, caring for the trees, working out which ones are missing, propagating more from the existing stock, planting replacements, building rabbit proof fencing, establishing a water supply and more. Join us – become part of the orchard's history! In future you will also be able to purchase your own heritage fruit trees, grafted from the venerable originals at Werribee Park.
Thanks to the Australian Dictionary of Biography.
Australian Horticulture in 1824
Click here for information about Traditional British Orchards (PDF)
---
Fruit Varieties at Werribee Park Heritage Orchard 2009
The cultivars (varieties) of old fruit trees in the Werribee Park Heritage Orchard have yet to be identified, but when we first began to catalogue the surviving trees we had:
• 18 Cydonia cultivars (Quince),
• 20 Pyrus cultivars (Pear)
• 26 Malus cultivars (Apple)
Just over 50% of the fruit trees were estimated to be forty to sixty years old. Approximately half of these were Pear and half Apple. Eighteen, or 28% of the trees were Quince, estimated to be in the order of eighty to one hundred years old.
As we discover what the varieties are, we will list them on this web site. Historically, the orchard also contained peaches, grapes, plums, walnuts, olives and other fruits.
---
Newly Planted Heritage Fruit Varieties, 2009
Apples (Malus)
Striped Beefing
King Cole
Chandler
Cranberry Pippin
Forge
Altlanta
Woodstock Pippin
Barry
Cox's Orange Pippin
Ortley (Syn Cleopatra)
Blue Pearmain
Pine Golden Pippin
Roundway Magnum Bonum
Finson's Orange
Keswick Codlin
Autumn
Cornish Aromatic
Golden Harvey
Gravenstein
Devonshire Quarrenden
Lalla
Bedford Pippin
Bramley's Seedling
Murray Gem
Maiden's Blush
Golden Sweet
Brabant Bellefleur
King of the Pippins
Golden Noble
Orleans Reinette
Hoover
Geeveston Fanny

Plums (Prunus)
Satsuma
Robe de Sergeant
King Billy
Coe's Golden Drop (syn. Bury Seedling; Coe's; Coe's Imperial; Fair's Golden Drop; Golden Drop; Golden Gage)
---
The Sydney Gazette and New South Wales Advertiser (NSW : 1803 – 1842)
Thursday 22 April 1824 Page 2
The extent and diversity of the Australian horticulture is not so generally known as might be wished. To shew to what a state of perfection our gardens are arriving, we take the opportunity of enumerating, amongst the multiplicity of productions, the following plants. They are kindly handed to us by one of the most proficient horticulturists of the day:–
The Lisbon, Seville, Mandarin, China, and Brazil orange. The Lisboa and common lemon. Small round and large oval citrons. Limes. Brazil and Java shaddocks. Of apples, pears, peaches, nectarines, apricots, cherries, and plums, many varieties are cultivated.The vine is chiefly cultured for the table, but so many kinds have been lately introduced, that it may reasonably be conjectured employ will soon be obtained for the wine-press.The quinces are of two kinds, viz. the common or Austrian; and the clustered flowered or Japanese; the former bear in great abundance.The walnut, sweet chesnut, and medlar have already borne; and the filbert and alder are coming forward.The black Italian, Tartarian, white or Chinese, and Cape mulberry, bear in vast profusion.Gooseberries and strawberries are abundant and general. The Maspilus japonica, or loquette, with various kinds of figs, yield excellent crops; and the pomegranate seldom fails.In the vicinity of Port Jackson, the banana, guava, and rose apple, have perfected in considerable quantities; and the great flowering passion flower, or granadilla of the East Indies, has evinced symptoms of bearing.The date palm (phoenix dactylifera) has long been introduced,,and grows luxuriantly, but cannot be expected to yield fruit for some years.The olive, of which we have at least 4 species, promises all that can be required. The tea (Thea Bohea), custard apple, and alligator pear, are now brought to bear without any injury.
The melon and cucumber are in great quantities, and cause but small trouble. The pine apple can be propagated in the open air ; but to obtain its natural sweetness or flavour, artificial heat is necessary.
Independent of the above list, the following plants have recently been introduced, and promise to add greatly lo our extensive list of fruits ; viz. the anona cheramolia, or cheramolia of Chili. The gromuchuma, or gooseberry of Brazil. Artocarpus integrifolia, or jac fruit. The Celeta, Tangarine, and Bahia orange. Sweet lemons and Persian limes. Cucumis anguria, or chewchew.
Such is the decided peculiarity of our climate, that while on the coast can be cultivated the major parts of the tropical fruits with considerable certainty and success, we can also produce all those of Europe in the interior.